Dear Reseller,
Tomorrow, we will be releasing a brand new version of the Control Panel Dashboard that provides you with all critical functionality right on your home screen!
The new Dashboard offers superior control, better flexibility and easier navigation as well as a smashing new design!
A Brand New Dashboard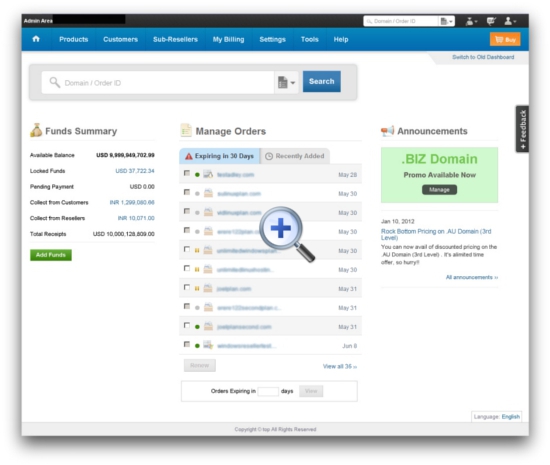 "A feature-rich Dashboard
that lets you manage key functions of your
business effortlessly!"
Global Search Bar
Navigate directly to your Customer's or Sub-Reseller's account or quickly search for orders.
Low Funds Notification
Instant dashboard notifications if you ever run low on funds.
Pending Payments
Keep a track of all your pending payments directly from your new dashboard.
Recently Added
Keep a track of all your incoming orders.
Funds Summary Blurb
View your available and locked funds directly through the new funds summary blurb.
Easy Preview
Quickly preview Customer & Plan details of all your orders.
Manage Free Services
The 'Manage Free Services' blurb has been moved under the 'Products' tab.
Language Translation
The language translation tool has been moved to the footer of your dashboard.
If you require any assistance in exploring or using your new Control Panel, your Account Manager is always available to help.
We hope you love the all new Dashboard and we'd be really happy to know what you think about it – Tweet about the new Control Panel Dashboard and let us know!
Regards,
Robert Paul
Director, Marketing & Business Development